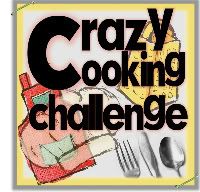 This month's cooking challenge was chocolate cake and when I read that it absolutely made my day - I had an excuse to make chocolate cake even though it was nobody's birthday! The thing about these challenges is that the recipe is supposed to new to you, so you can't use your classic recipe that you love, and if possible it should be something different to just the usual. Not only that, but it has to come from another personal blog. Which is the part that I find most difficult. The last couple of times that I did this challenge I kept bemoaning to myself how difficult it is to search for recipes from blogs alone, instead of the huge commercial websites. There are loads of blog-rolls out there for food blogs but they don't actually let you search the content of each blog, and I think that google's blog search only brings up google blogs (like mine). But then I remembered that I am actually already part of a website that is all about indexing food-blog entries so that they can be searched! It's called
erecipecards
and I've been contributing to it for ages to try and get my readership up, so I decided it was high time to actually use it myself. I typed 'chocolate cake' into the search button and actually managed to find something that looked really unusual and unique (and yummy). It was so fast too! So here it is, my food challenge entry, a chocolate cake that features red wine!
I was a bit concerned that it would not turn out well, seeing as I don't really like red wine. But it was so good! It was really rich, even though it only uses cocoa and not chocolate. It was dense and moist and the sauce that goes with it was really good too. The blog that I found it on is called '
Easily Good Eats
' and it's full of recipes that I would like to try. I'm looking forward to seeing all the chocolate cakes that show up in this month's challenge, and I hope that I am the only person that has found this particular one!
2 cups flour (plain)
2 cups caster sugar
4 heaped tablespoon cocoa powder
1/4 teaspoon salt
1 1/2 teaspoons baking powder
1 cup oil
2 beaten eggs
1/2 cup red wine (like shiraz or cabernet sauvignon)
1 teaspoon vanilla essence
1 cup boiling water
This cake was really simple and fast to make, it uses only one bowl and there are all of three steps to it.
First, as always, I preheated the oven to 180 degrees celsius and I greased and floured a tin. I used a rectangular tin that is about 20 cm by 30 cm. A big round tin or two small round tins would do as well.
The ingredients are mixed together in the order that they are stated above. Begin with a large bowl and measure the dry ingredients into it, then give it a mix. Add the oil, eggs, red wine and vanilla essence and use your electric beater or cake mixer to combine it all well. Finally, add the hot water and beat that in also.
Now pour the mixture into the prepared tin and bake it for about 50 minutes, until a skewer inserted into the middle comes out clean. I was very worried that the cake would overflow because it filled my tin up nearly to the brim. But while it did rise, it did not rise so much that it overflowed, luckily! Anyway, when the cake is done, let it cool for about 5 or 10 minutes before turning it out of the tin, onto a wire rack. Leave it to cool completely and then serve it with the sauce that you see below!
Golden Syrup Chocolate Sauce
1/4 cup golden syrup
1/4 cup milk
1 heaped tablespoon cocoa powder
Again, this is really simple. It is a very thin sauce, which is nice with such a dense cake, and it is not too rich. All you need to do is to combine the ingredients by placing them all in a saucepan or microwavable bowl and heating them, whisking briskly every now and then, until the sauce is smooth. And then enjoy!