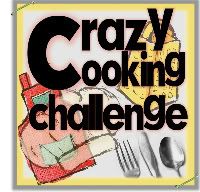 This month's crazy cooking challenge was spaghetti with a red sauce, and I really wonder what everybody will come up with because while there are many variations of the theme, surely they can't all be that amazingly different from each other? So I decided to not only make a new spaghetti sauce but also to make meatballs! And they were delicious, just so you know. Once again I chose the simple way of find another blogger's recipe by using erecipecards and I found a recipe on
Rock Recipes
that featured fennel, a vegetable that I had barely heard of, let alone ever used. I had to google it so that I knew what to look for at the vegetable stand (at the market, because the supermarkets here don't sell such outlandish vegetables as fennel). The sauce is roasted and even though I roasted it for an hour I found that the fennel was still not tender, and it had an unusual taste that I was not used to, so I didn't want to have large chunks of it in my sauce. I decided to have another go at the sauce and modify the method a little, but only a very little. As for the meatballs, they were so good! They are also from another blog, called
norecipes
, and had ricotta cheese in them, another ingredient that I had actually never used before, but this blog said that ricotta will make the meatballs soft and tender, which was exactly how I wanted them to be!
1 large tablespoon butter
1 fennel bulb, sliced finely
1 brown onion, sliced finely
4 cloves crushed garlic
2 tablespoons brown sugar
1 tablespoon dried oregano
3 tablespoons balsamic vinegar
8 or 9 large tomatoes, cut into chunks
1 tablespoon cornflour
Salt and pepper to taste
This sauce is really simple and I liked it better after I adapted it. So, the original recipe said to chop everything into rough chunks and roast in a large pan till everything was tender. Only I found that everything did not get tender. On the other hand, the great thing about this recipe is that it uses fresh tomatoes and doesn't expect you to steam them and peel them and de-seed them first. OK, time to get on with the recipe.
First, heat the butter in a large frying pan. Cut both the onion and fennel in half lengthwise and then slice both very thinly crosswise, so that you get thin half-rings. Then throw these in the pan and toss them about a bit. Add the crushed garlic, brown sugar, oregano and balsamic vinegar and turn the heat down low. Leave it for about 10 minutes or so, stirring every once in a while, until everything is really soft.
Now, turn your oven on to about 200 degrees celsius and get out a roasting pan or casserole dish. Chop the tomatoes up roughly and place them in the dish. Sprinkle over cornflour, salt and pepper and toss it all about. Then add the onion/fennel mixture and stir it through the tomatoes.
Place the dish in the oven for about half and hour, then give everything a stir. Cook for another 20 minutes or so and by that stage your sauce should be really thick and well roasted.
1/2 brown onion
2 cloves garlic
1/2 cup crushed tomatoes
500 grams beef mince
100 grams ricotta cheese
1 egg
1/3 cup breadcrumbs
25 grams parmesan cheese
1 teaspoon dried thyme
1 tablespoon fresh parsley
1 teaspoon soy sauce
1/2 teaspoon salt
1/4 teaspoon black pepper
So meatballs are pretty simple to make really. I saw one recipe in which everything had to be piled into the bowl in a specific order but that doesn't really seem very necessary. Just place it all in there and give it a good mix. First with a spoon but then you will have to use your hands.
Take small handfuls of the mixture and roll it into balls. You can either fry them in a pan or roast them in the oven or simmer them in the sauce. I chose to brown them in a pan first, rolling them a lot to try and keep the round shape (didn't really work but who said meatballs had to be spherical anyway?). Then I placed them on top of the dish of sauce and let it all roast together.